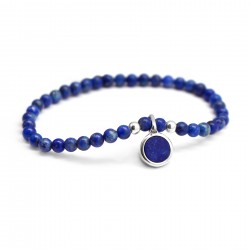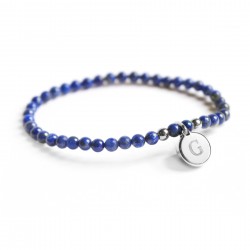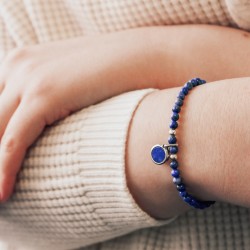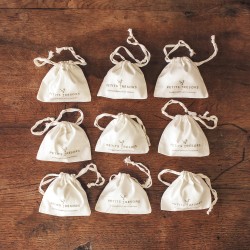  
Small Rounded Fine Stone Bracelet - Beads - Lapis Lazuli - Sterling Silver
Sterling Silver

Customizable jewellery
Engraving offered on all our jewelry (on the front)

All our jewelry is carefully packaged in a pretty cotton pouch

We are available every day to help and advise you in the choice of your jewelry
Let's discover our new colorful range of fine stone bracelets!

Composed of natural stone bracelets, we have designed it in many colors to vary pleasures, to wear them in accumulation and in all seasons.
Each stone has its own color ... and its symbolism!
Sun Stone has a soft orange color, symbol of joy; Lapis Lazuli and its indigo blue symbolize health and peace; Howlite is a chic white stone of serenity, slightly marbled...
Let's choose what speaks to you the most!

Natural stone is a product of nature, both unique and of great aesthetic value. It can exhibit distinctive variations in hue and color.

Have the sterling silver medal engraved with an initial, a symbol or a number and make this jewel completely unique!


Material : Sterling Silver, Lapis Lazuli and Sterling Silver Beads.
Medal size : 0,39 inch / 1 cm.
Bead size : 0.16 inch / 0.4 cm.
Closing system : Elastic.
Wrist size : ideal from 5.5 to 6.89 inches / from 14 to 17.5 cm.