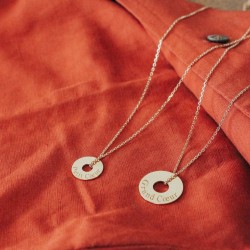  
Petite Cherie Pendant - Gold Plated
Gold Plated 18 carats

Customizable jewellery
Engraving offered on all our jewelry (on the front)

All our jewelry is carefully packaged in a pretty cotton pouch

We are available every day to help and advise you in the choice of your jewelry
A classic, this gold-plated token pendant will be for you the casual chic "."
Simple and refined, you wear it both on a blouse and a turtleneck.
Pledge of love or friendship, you can customize it as you please: dates, first names, initials or soft words ... Burn your memories.
This gold-plated necklace is also worn as a duo with our little gold-plated sweetheart bracelet, a timeless one of our range. 

Material : Gold Plated 18 carats.
Medal Size : 0.8 inch / 2 cm.
Chain length : 17.7-19.7-23.62 or 27.56 inches / 45-50-60 or 70 cm.


You might also like